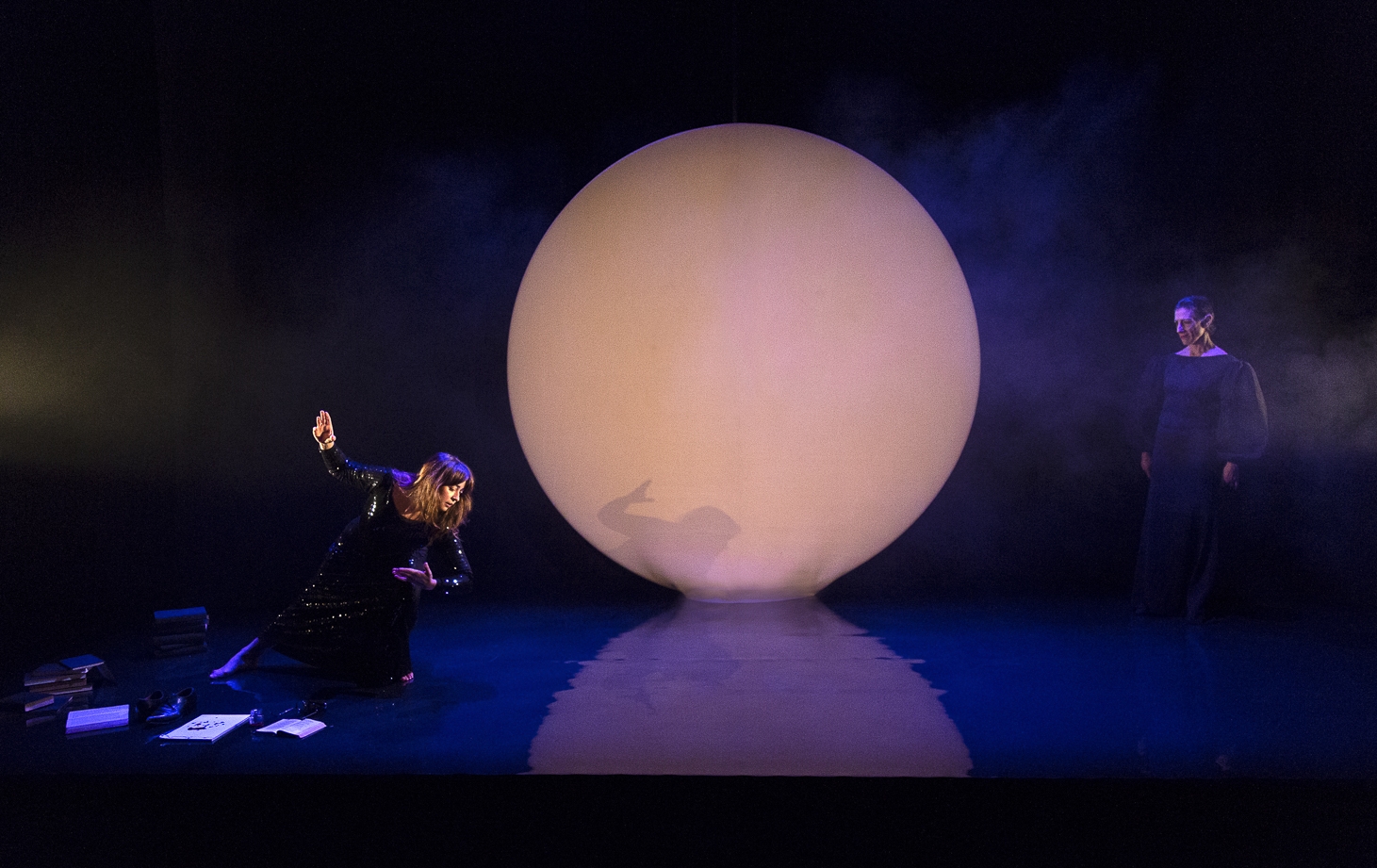 "A director whose name every theatre lover should commit to memory is Stephen Nicolazzo...theatre craft at its most masterful. Nicolazzo is somehow capable of simultaneously summoning the savage and the sublime, revealing wrought, raging truths, and dark, sexual impulses, wrapped in the smoothest satin"
Maxim Boon, The Music
Daddy (Arts House, Yirramboi Festival)
★★★★1/2 "Daddy echoes with the grandeur of the history of the world- black, white, and candy floss pink...It is visually stunning (not a surprise as it is directed by Nicolazzo) and dynamic, multilayered, hopefully this is a show that will come back again and again" What Did She Think?
★★★★1/2 "A brilliant and devastating show…superbly crafted…one-of-a-kind and incredible. It demands to be seen" Cameron Colwell, The Music
★★★★ "Bray's identity is deeply shaped by the fates of Aboriginal Australia...He embodies the double loss that is so exemplary of our First Nations, yet so poorly understood" Jana Perkovic, The Age
"By guiding us through the horror of colonial history and the determination of contemporary Blak life, a new and vital understanding of our country was revealed" Timmah Ball, Blak Critics
"Daddy demonstrated that we are indeed living in a blak queer cultural renaissance" ABC News
"And yet – for all its painfulness, this isn't a sad show. There's a profound resilience expressed in Daddy: it's in the humour, the honesty, the trust that Bray extends to us as he shares his life. This art is a lot more generous than Rimbaud's. Perhaps Bray has deeper psychic resources, despite everything that has been taken away from him. In the centre of the awkward, beautiful ritual of Bray's dance, something alive is stubbornly beating. Something like hope." Alison Croggon, Witness Performance
"Whether his movements are slow and graceful or erratic and extremely physical, they retain a sense of urgency and desperation to them, as if Bray is trapped inside a routine that is doomed to repeat itself. James Lew's set design simultaneously represents childhood ecstasy and an imposing sexual energy. Eroticism permeates throughout Daddy that is superbly supported by Katie Sfetkidis' lighting, which is some of her best work. From her playful pink hues to exposing Bray's later outrage, her sublime design is meticulous in execution. The disconnect from his culture leads Bray to using sex as a way of connection and what sex means to him, which includes an all-in dance lesson on how to pull the right moves at the club to grab the attention of the man you want to take home for the night. Naretha Williams' composition and sound design captures the gradual desperation and yearning Bray feels. [Daddy] is joyful, loving and hopeful." Myron My, My Melbourne Arts
Suddenly Last Summer (Red Stitch)
★★★★ "A stunning, thorny jewel in the queer canon...Some of us have been waiting a while for visionary director and founder of Little Ones Theatre Stephen Nicolazzo to tackle a playwright worthy of his unique talents, and there seemed none more apt than Tennessee Williams, the master of an emotional lyricism that can push so easily into fevered psychological nightmare. This director has been eyeing the queer canon from the beginning, stalking its edges in a way, and he's now determined to leave his imprint on its internal organs. Kate Cole is magnificent; impossibly vulnerable...When the story finally comes, she has the audience transfixed, and it's impossible to look away." Tim Bryne, Time Out
"The most sensuous of our theatre makers, Nicolazzo and his design team overwhelm our senses. They sedate us with mysterious beauty. Yet again, Eugyeene Teh has made a familiar stage into something alien. Kate Cole is more than up to the challenge...the lights adore her. The music adores her. Her glittering little black dress adores her. She is hypnotic. Her acting is telepathic. She and her truth are our salvation." Chris Boyd, The Australian
"Nicolazzo has a feeling for stories where the lure of the darkness is also a way out of the closet. It's a Southern Gothic that twists [Tennessee Williams'] lifelong obsession with his mother, with his sister's mental illness, with the savage and untameable shadowland of his own sexuality, into the sharp silhouette of psychological horror. Jennifer Vuletic provides a spidery, brittle and increasingly malignant incarnation of the vampiric Violet, while Kate Cole navigates bafflement and clarity to arrive at a quiet shore of heroism as a sane woman traumatised by a story everyone thinks is too horrible to be true. Both of them are charismatic, achieve a flawless drawl and deliver the playwright's lyricism with an intuitive rhythm and a complex and perverse emotional palette. They will impress anyone who cares about acting." Cameron Woodhead, The Age
"Suddenly Last Summer is dark, unsettling and delightful; sharp, intrusive and hilarious." Keith Gow, Witness Performance
"Stephen Nicolazzo and designer Eugyeene Teh are the ideal choice to give this Southern Gothic piece a heightened, stylised reality. There's an ironic, riskily comic mode at first, but when the luminous Kate Cole takes over the story and the stage, the darkness and horror of this fable close in and dominate to the shattering conclusion. We hang on every word delivered by this great cast in which Ms Vuletic, with her ruthless but sentimental cruelty, and Ms Cole, fighting to cling to what she witnessed with pity and terror, sweep all before them." Michael Brindley, Stage Whispers
"A subtle and intensely entrancing production. [Jennifer] Vuletic is a standout. Suddenly Last Summer is an ode to marvellous storytelling; enriched with symbolism and elegance, Williams' writing comes alive" Leeor Adar, Theatre Press
"Haunting, horrific and richly poetic...a breathtaking production" Aridhi Anderson, Weekend Notes
"The language and performances are mesmerising. I was just so 'in the moment', hanging on their every word as tension built. And the staging...Set and costume designer Eugyeene Teh has knocked it out of the park. Stephen Nicolazzo's direction is detailed and exacting. The result is a fine night of theatre – a sordid mystery that draws you in" Alex First, The Blurb
The Nightingale and The Rose (Theatre Works)
★★★★ "Director Stephen Nicolazzo has constructed an exquisite ode to Romanticism in this adaptation, as detailed and precise as anything he's put on stage before. These adaptations by Little Ones of Wilde's stories for children are minor gems, perfect distillations of form and content. Their queerness is inherent...The true essence of their queerness doesn't really lie in gender or even sexuality; it's in an idea of otherness as something incredibly fragile and worthy of protection or elevation. They intrinsically point to the author's nature, and Nicolazzo is the ideal theatre maker to bring them, quivering and beautiful, back into the light." Tim Byrne, Time Out
★★★★ "The ingredients that make up this production are a recipe for brilliance. I was captivated. Keeps your mind ticking over. A must." Liddy Clark, Stage Noise
"The alto-voiced Brigid Gallacher is deliciously androgynous. Jennifer Vuletic plays the nightingale with claw hands and coloratura. Her performance is a feast. Original and true to the writer that inspired it" Chris Boyd, The Australian
"Distilling Wilde's dark parable into a seamless 45 minutes, The Nightingale and The Rose rides high on Eugyeene Teh's stylish design, and on magnetic, savagely beautiful performance that flows into moments of amusing camp. No doubt Oscar would have approved." Cameron Woodhead, The Age
"Vuletic floats around the stage as though walking on air...piercing the soul with an a cappella rendition of Puccini's Vissi d'arte. Gallacher brings an affectingly androgynous charm. Wang displays a dancer's sensual poise and grace. Little Ones Theatre capture the bittersweet and painfully beautiful nature of Oscar Wilde's tale with great artistry and passion for the text...so as the company plans ahead for an adaptation of a third story in the future, we can only hope for more!" Bradley Storer, Theatre Press
"This production is sexy, witty and haunting and will have you pondering what price you would pay for true love." Faith Sinnott, Be Melbourne
"An absolutely perfect work" Carla Donnelly and Philip Thiel, Across the Aisle
Abigail's Party (Melbourne Theatre Company)
★★★★ "Set in a garish, '70s, orange shag pile conversation pit (Anna Cordingley), Stephen Nicolazzo's production of this audacious tragicomedy highlights the grotesquerie of Leigh's characters as they embarrass themselves, and humiliate, bully or seduce each other. Hilarious, uncomfortable and depressingly familiar in its depiction of ugly suburbia that seems to have changed little in four decades." Kate Herbert, Herald Sun
★★★★ "This production does Mike Leigh's play justice with a pitch perfect cast..Abigail's Party is a compelling snapshot of personal and social anxiety in 1970s England, but its characters are so distinctive, so identifiable (I suspect there's a little Beverly, Laurence, Angela, Tony or Sue in us all) that it will surely never date. This MTC production avoids falling into the trap of relying on the era's ghastly particularities too heavily, instead showcasing these characters' problematic relationships and inner crises." Patricia Maunder, Limelight Magazine
"On the strength of Stephen Nicolazzo's directing credits since 2012 — for MKA, Red Stitch, La Mama, Theatre Works, Malthouse Theatre and his own company Little Ones — I'd front up to a nativity play on Mars were he inclined to direct one. This is a fantasy vision — a delusional memory — of the swinging 70s colliding with nasty reality. Life is drab. The women count themselves lucky if their husbands aren't "really violent". Praise for Nicolazzo typically focuses on his versatility, imagination and ability to light up our minds but he's also an exceptional motivator of actors. This might sound barmy but Eugyeene Teh's designs are an integral part of the dramatic equation. The ­actors "live up" to their costumes. Or, in Zoe Boesen's case, to her hairdo. (It's a crimped mop worthy of Toyah Willcox at the height of her fame.) Edwards' performance is as glorious as her sparkly blue jumpsuit. Benjamin Rigby is a manspreader in a perfect white suit and tight blouson. It's an exceptional ensemble." Chris Boyd, The Australian

"Nicolazzo's gift with actors is evident, and the cast is uniformly excellent. Edwards is a knockout, slinking and salivating about the space, chucking cheese squares around and splashing gin everywhere. She's a monstrous capitalist at heart, clutching greedily at whatever is in her reach. Frederiksen plays against type as the hopelessly compromised Laurence, and makes much of the only character with any real arc; his desperate need to acquire some sort of cultural capital, and his sneering distaste for his working-class neighbours, is sad rather than malicious. Boesen is superb as the seemingly ditzy Angela, and Rigby cleverly hints at a real nasty streak under Tony's cock-eyed swagger. Tonkin mines the fish-out-of-water awkwardness of Susan to brilliant effect, managing to suggest a deep existential dread under her stitched-up formality." Tim Byrne, Time Out
"Incredible design, stunning cast, excellent production. This is the kind of experiment I hope MTC tries more often; take a classic work and let an indie theatremaker turn it on its head. There's nothing I dread more than seeing a dinner party drama at the Melbourne Theatre Company, so it's much more thrilling to see this bleak classic turned upside-down and pushed outside its and the audience's comfort zone." Keith Gow
Merciless Gods (Speak Easy/Little Ones Theatre- Melbourne, Griffin Theatre Company- Sydney, Arts Centre Melbourne)
★★★★★ "This is powerful, confronting and sublime theatre, a howl of anguish from those lost to the cracks and demanding to be heard" Kate Rose, Herald Sun.
★★★★½ "Breathtaking and shattering... These gutting scenarios, one after the other, are offered as a succession of exquisite exhibits in a museum of rarefied pain; unspeakable ordeals forged into golden monuments. Even as we are forced to confront such wretched traumas, the sonorous, otherworldly language, orated with all the gravity of a Greek tragedy, reveals a touching emotional truth, connecting these alien experiences to a relatable humanity. It is heartbreaking without being garishly sentimental - this storytelling refuses to compromise its intensity with any cathartic redemption. Director Stephen Nicolazzo continues to cement his reputation as one of Melbourne's - and dare I say, Australia's - most dynamic and creatively assured theatre makers...every gesture of this production finds a hard-won, supremely accomplished equilibrium between the beautiful and the barbaric; the darkest shadows revealed by cleansing glimpses of diaphanous light. " Maxim Boon, The Music.
★★★★½ "A striking and fearless affair... Sharp staging, evocative direction, a powerhouse script, and a troupe of performers all at the top of their game...this is provocative contemporary theatre at its best" The Lowdown Under
★★★★ "Queer theatre outfit Little Ones is a leading light on Melbourne's indie scene. Under director Stephen Nicolazzo, the company has developed a heightened, gender-bending, physically precise performance style. "Camp" might be too limiting a word to describe it. These artists thrive on the playful artifice and subversive humour associated with that aesthetic mode, but also expand its ambit through meticulous rigour and, more recently, the fullest kind of emotional palette.. In adapting Christos Tsiolkas' short story collection Merciless Gods, they break new theatrical ground. The show covers the gross and scope of Tsiolkas' fearless imagination and feels almost like a retrospective. Dan Giovannoni's script is talented and Nicolazzo directs charged performances with an earthier hue than usual. Neither flinch from the disgust and discomfort, nor the piercing of delusion, Tsiolkas demands. Though not for the squeamish or easily offended, Merciless Gods is compelling, confronting theatre." Cameron Woodhead, The Age.
★★★★ "This is an outsider play made by outsiders, and it's this lived-experience advantage that gives the work its complex and rewarding layers: brutal, tender, and unsentimentally queer. It's a harsh theatrical landscape, but a lyrical one: the language is dazzling – insidious and vicious and suddenly gentle but never sweet. It sets aside the dominant voice of Australia – its conservative government, its patriarchal and racist positioning of the white male above all others – and instead places front and centre the silenced mothers, the rebellious women, the immigrants, the queers. It demands your attention" Cassie Tongue, The Guardian.
★★★★ "Nicolazzo and Giovannoni tell these stories with great taste and restraint, and the potential discomfort is usually displaced by surprising feelings of empathy and compassion for the enormous suffering of those on stage." Ben Neutze, Daily Review.
★★★★ "For the characters of Merciless Gods, the traumas of our shared history have left a stale stain in the soil that emerges into the personal and domestic with rage and force. There is no weak link in this cast. Stephen Nicolazzo's direction cuts the right frame. The atmosphere becomes thick in the tiny Griffin Theatre, helping to fill the space with scents of Tsiolkas' writing – smoke, sex and shit." Sophie Gillfeather-Spetere, Arts Hub (Sydney)
★★★★ "The stories are darkly fascinating, repellant but irresistible. And the atmosphere is nothing to sniff at, either. In the snug confines of Griffin's Stables Theatre, the lyrical dialogue takes on a sinister intimacy. Characters writhe on the narrow strip of stage, performing tortured choreography in the often-smoky air. Merciless Gods is an experience that will leave you shattered, but reflective." Sam Baran, The Music (Sydney)
"Merciless Gods is confronting stuff. But those who fall under its dark spell will leave feeling elevated." Jason Blake, Sydney Morning Herald
"As tough and rough as the characters are, director Stephen Nicolazzo has created polished theatrical jewels from their lives. Out there against the blood red backdrop, he and the Little Ones team have brought Tsiolkas' words to queer, passionate, troubling, affecting life. Merciless Gods is remarkable." Keith Gow
"Giovannoni's script lets us into the hearts and heads of Tsiolkas' characters. Its easy to connect with lovely people; its confronting to connect with- and easily laugh with- people who you'd never look at in the street or are happy to pretend don't exist", Anne-Marie Peard, Sometimes Melbourne
"Merciless Gods is a harrowing, provocative, moving, funny, breathtaking night in the theatre. Little Ones Theatre is a company that resonates with excellence. Brilliant." Liddy Clarke, Stage Noise.
"A compellingly acted, emotionally vivid and atmospheric work, the eight tales delighted to rapturous applause" Sarah W, The Plus Ones.
"Porn shoots, prisons, migrant camps and festering teenage boys' rooms – the raw, incendiary scenes of acclaimed Melbourne novelist Christos Tsiolkas spring to life like a contemporary, sex-drenched Greek tragedy in the hands of Little Ones Theatre. The gender bending, queer Melbourne company has done great justice to the first adaptation of Tsiolkas' 2014 collection of short stories, evoking beauty out of darkness and tenderness out of brutality. This play is a must see and deserves to be taken to the rest of Australia." Annika Priest, Australian Stage (2017)
"Little Ones Theatre manages to make me laugh at the grotesque and alluring once again in Merciless Gods. Whether it's the description of a hardened criminal unpicking thorns from the tongue of a paedophile or the pungent growth spurt of a teenage boy, beautiful and ugly words cohabit so eloquently at the end of Dan Giovannoni's pen, the result of which is imagined onto the stage with feverish intensity by director Stephen Nicolazzo." Leeor Adar, Theatre Press
"This is not an easy night of theatre; it is confronting, even threatening, in its dark truthfulness." Michael Brindley, Stage Whispers
"Visceral theatre, utterly alive" Richard Watts, Triple RRR
"Graphic Intense Funny Tragic Relentless and very very good" Doug Knight, Australian Stage (2019)
"What remains most striking in the memory is director Stephen Nicolazzo's powerful use of imagery as he channels the divine forces that give the play their name and inspiration. This unapologetically queer production, centred on the outsiders and outcasts of society even at their most reprehensible, is so luscious and commandingly seductive in its urgency and power that it's impossible to resist." Bradley Storer, Theatre Press (2019)
The Moors (Red Stitch)
★★★★½ "An erotically powerful, kink-queer parable...this brilliant theatre maker (Nicolazzo) achieves something that only the most assured of practitioners can pull off: he has created a show that is both perfectly tailored to its text and yet distinctly representative of his own unique aesthetic. Allowing a surprisingly cohesive sheen of lustrous glamour to frame this gothic world, Nicolazzo displays incredible confidence in weaving together different influences, visually, intellectually and theatrically. His touch can be found on every level of this production, from the grandest gestures (and even in the diminutive space of Red Stitch he still manages moments of grandeur) to the most microscopic nuance. It's surely only a matter of time before one of Australia's major presenters offers him a platform (and a budget) where the full extent of his talents can be let loose."- Maxim Boon, The Music
★★★★ "The Moors is a scintillating engagement…Stephen Nicolazzo is the perfect director to bring all this to life. No one takes frivolousness more seriously, and the sustained camp the production achieves –incandescent, almost beyond caricature in its intensity – allows you to abandon yourself to its ridiculousness through formal devotion to style. There's no weak link in the performances, razor-sharp in their commitment. Bizarre and raunchy, subversive and disturbing, and deliciously funny all at once." – Cameron Woodhead, The Age
★★★★ "Nicolazzo is one of this country's most exciting and compelling directors, recalling a young Barrie Kosky. His aesthetic is becoming distilled and mature, but he has lost none of the cheekiness and energy that made his Dangerous Liaisons so much fun. He's determinedly contemporary – the pop culture references and in-jokes fly around the stage – but he also harks back to the knowing provocations of Joe Orton and Oscar Wilde before him. He knows how to take a gesture to the edge of its usefulness, tipping it slightly into caricature before pulling back to something surprising and true. There's every indication he'll conquer MTC and Opera Australia in time. Catch his work now in an intimate setting with affordable ticket prices; he may soon be out of our league."- Tim Byrne, Time Out
"Acting throughout is exquisite…Nicolazzo has crafted a visual, sensual and theatrical masterpiece." – Chris Boyd, The Australian
"Quirky and entertaining." – Kate Herbert, Herald Sun
"Brooding quirk and menace…unique, witty performances that engaged and entertained… beautifully crafted, funny and clever show" – David Collins, Arts Review
"Sinister, dark, and humorous…every cast member was strong, convincing and compelling…[a] gothic surrealist gem of a play " – Tania Herbert, Theatre Press
The Happy Prince (La Mama/Midsumma Festival/Little Ones Theatre)
★★★★½ "A 'flawless little jewel of theatre'. Little Ones Theatre has both roles played by women. And its version hovers, with exquisite delicacy, between the soul of the fairytale and the body and breath of a lesbian love story. As with the conception and Stephen Nicolazzo's direction, the performances are wonderfully poised and labile. They give a full measure of dignity to the story, yet draw out undertones of playfulness and sensuality, with a hint of the macabre." Cameron Woodhead, The Age.
★★★★1/2 "This is Wilde, respected and adored" Judith Greenaway, Reviews By Judith
★★★★ "Tremendous, unpretentious work. It's a love that should never work – it's a statue and a swallow, a queer connection in a world that upholds old traditions and suffers those who don't conform – but it's a love that transcends possibility. This is high romance with a sharp, knowing edge. And when the statue sheds her golden dress, you might cry from the loveliness, and sadness, of a love that gives everything to the world but still can't survive within it. Watson and Davies are enchanting and enchanted by each other: Davies is witty and biting and bold; Watson is grave and soulful and strong. When they first regard each other – just for a moment – the world stops spinning. This isn't a happy story, but it's a gorgeous one, one that has some hope for us." Cassie Tongue, Time Out.
★★★★ "The Happy Prince is an achingly lovely hour of theatre." Jason Blake, Audrey Journal
★★★★ "The shadows, shapes and illusions of the Stables stage is the perfect space for this wistful and occasionally macabre tale... It's made memorable by Janine Watson's cerebral stillness and tangible depth, while the contrasting bright energy of twirling, soaring Catherine Davies is exhilarating." Diana Simmonds, Stage Noise
"Detailed, sumptuous, and authentically sensuous. Nothing is accidental. Nothing is incidental. Even the quietly stuttering smoke machine sounds timid and mournful. And, thanks to the performances, we are made one with what we see" Chris Boyd, The Australian
"Extraordinary staging. Poetic, with a sublime beauty that transcends all manner of convention, The Happy Prince speaks its truth with remarkable clarity, to deliver an hour of theatre that is as moving an experience as any fairy tale could wish to be."
Suzy Wrong, Suzy Goes See.
"Little Ones Theatre have expertly created a powerfully affecting and layered story of deep affection and sacrifice that will linger in your mind long after the final scene." Myron My, Theatre Press
"Captivating…under Stephen Nicolazzo's direction the actors give restrained, elegant performances that alternately make you laugh and break your heart. We are lucky to have a company like Little Ones Theatre in Melbourne" Kate Purvis, Aussie Theatre

"Little Ones Theatre have done that deft thing of honouring the source material while making it utterly their own to the point where you'd be forgiven for thinking it was always theirs. While the play's final lament is devastating, there's also hope in how it reaffirms that in the face of cynicism and a world where so many people struggle to have compassion or empathy for others that we really have no choice but to love fiercely, even if our hearts get broken." David Collins, Arts Review
"An entrancing, resonant, contemporary interpretation of Wilde's deeply moving work. It could almost be a film – with perfectly set up frame following perfect frame. Nicolazzo is, if there is such a thing, a Theatre Auteur. " Suzanne Sandow, Stage Whispers
"A delightfully exquisite and heart-squeezing piece of theatre that's ready to go to festivals all over the world." Anne-Marie Peard, Sometimes Melbourne
"Thank you Little Ones Theatre for another remarkable production. The Happy Prince is rich, beautiful, thoughtful, sincere and, at just the right moments, silly and sad in equal measure." Richard Watts, Triple RRR
Playing to Win (Melbourne Cabaret Festival/Ash Flanders)
★★★★ "Tears of laughter are easy with his outrageous high-camp hilarity, but they blend with those from a dark silence when he steps too close to unspoken fears and reveals the honesty, and hope, that hides behind the attitude and the jokes." The Age
Dracula (Theatre Works)
"Dracula is one part Artaud, one part Annie Sprinkle...Its an insanely detailed and gloriously sensual piece of theatre. We're left in no doubt that horror and camp are lovers, incestuous and inseparable." The Australian

"Stylish, erotically charged and droll vampire romp...a striking achievement." The Age

"The cast are spectacular, precise and energised and bring the piece a delicious serve of irony and excess. Aldrich and Davies are superb. Little Ones are the country's leading proponents of queer theatre, and they've produced a gorgeous and playful piece... a juicy blood orange to sink ones teeth into." Time Out

"A triumph of theatrical design and visual storytelling." Maggie Journal

"A brilliant homage... Little Ones Theatre's winning streak of creating unique theatrical experiences continues." Theatre Press

"Little Ones Theatre have one of the most unique voices in Melbourne theatre. Director Stephen Nicolazzo embraces high-camp without the condescending tone or gender insult that camp laughs often come from. Inspired by the 1980s but seen through today's eyes, their worlds are visually arresting, sexually free and always unforgettable." Sometimes Melbourne

"Silent movies merge with pantomime in this irreverent parody featuring that lusty, fanged vampire as a comical composite of Bela Legosi, Buster Keaton and Gloria Swanson...valiant, entertaining and skillful in its artifice and campery" Herald Sun

"Bold, original and innovative theatre" Theatre People

"A visually stunning and physically enchanting piece of theatre" Stage Whispers
Meme Girls (Malthouse Theatre)
★★★★ "The risks pay off", Andrew Fuhrmann, Daily Review
"Director Stephen Nicolazzo has a propensity for spectacle and does not so much toy with gender here as declare it passe. Fun is Meme Girls' raison d'etre," Rebecca Harkins-Cross, The Age
"This is theatre as YouTube channel. It's a feak-show mix-tape of viral sensations" Chris Boyd, The Australian
"Turning trash into theatrical gold" Concrete Playground
"Meme Girls is an analsysis of the deeper meanings behind "shallow" or narcissistic" videos , a celebrabtion of the joy and fascination such ridiculous videos can bring and a wry critique" Beat Magazine
"A glorious camp-cum-high-art vision" Anne-Marie Peard, Aussie Theatre
The House of Yes (Theatre Works)
★★★★ "Thrilling to watch...The performances are all excellent... a grotty little piece, the camp turned inward and cancerous, even the silliness tinged with madness and grief.
Tim Byrne, Time Out
★★★★ "This show is another triumphant feather in the Little Ones Theatre's ever-expanding cap. Its Rocky Horror meets Douglas Sirk in deliciously cinemascope time-warped glory."
Nick Pilgrim, Theatre People

"Scintillating...a beautiful and detailed production. A triumph of the camp. It's a definition of camp. Not camp as excess or trivia, but camp in the Sontag sense, as role-playing and artifice. Passionate camp, in which life is amped up to the state of theatre... The House of Yes is oddly substantial. It explodes out of the queer ghetto by elevating kitsch into something exalted and collectible. By turning trash into theatrical treasure. "
Chris Boyd, The Australian

"The cast slink, pose and strut around the stage in campy Waters-esque deliciousness…the jokes are funny, the barbs are killer, and Nicolazzo's trademark irreverence is on glorious display."
Herald Sun

"Bright and beautiful. Dark and tragic. The production leaves you in that state of ecstasy pinched between joy and desperation."
Adelaide Fisher, Arts Hub

"Little Ones Theatre presents a vivid and campy theatrical extravaganza which captures the essence of aspirational North America while looking quite a lot like Rocky Horror. " Australian Stage

"Little One's The House of Yes is visually striking. [they] know how to work together to create impactful images and lush landscapes." Melbourne. Arts. Fashion

"It took me exactly 37 seconds to realize that I was going to be in pure bliss watching Little Ones Theatre's production of The House Of Yes." Theatre Press

"[Little Ones Theatre] are making damn good theatre and not only is a whole new generation coming along for the ride, there's a whole heap of Gen X-ers who are having their faith restored in what can be the most transformative of art forms." MCV
Dangerous Liaisons (MTC Neon Festival)
★★★★★ "More than a triumph of theatre; it is an exciting promise for the future of live performance in this city." Toorak Times
★★★★ "So in vogue you can almost smell Madonna" Herald Sun
★★★★ "An exhilarating sprint… as savage as ever" Time Out
★★★★ "Delightful, dazzling and decadent." Beat Magazine
"Heaving bosoms, panniered skirts and perilous hair, with a little Chaka Khan on the harpsichord. Director Stephen Nicolazzo's inspired take on this modern classic was remarkable not just for its irreverent glitz and perfect timing, but for the talent on display. Alexandra Aldrich's Joan-Collins-meets-Joan-Crawford take on the Marquise de Mertuil was one of the best things on stage all year." Best Theatre of 2014 List, Herald Sun

"One of the most authentic theatre voices around." Aussie Theatre

"Dangerous Liaisons has a weighty, fascinating, irresistible nucleus. I dare say Nicolazzo is as fascinated with sex, deception, love and power as any of us. His unique skill is his capacity to allow us to read his manic mind and to see the world through his dusty, pink-tinted glasses." The Australian
"Little Ones' physical stylisation and gestures to outlandish camp are neatly tailored to emphasise the insincerity of the play's rococo social niceties, and the raw diabolism of the sexual power-plays underneath it." The Age
"Snippets of drag songs and choiry, airtight blocking, glorious breasts, visual delight and razor-sharp passages of dialogue, all carry their MO to make queer." The Mus
Special Victim (Adelaide Feast Festival/Hares & Hyenas)
★★★★ "equal parts Dolly Parton, Liberace and John Waters, Flanders again proves himself an obscenely funny and enviably talented performer." The Age
★★★★ "…entertaining, bright and hilarious, but there's always something darker and heavier that sneaks up on you and shakes you up." Daily Review
★★★★"… a show that exceeded all expectations...funny, touching, provoking and – at times – confronting...as political as it is personal" RIP IT UP Magazine, Adelaide
"A superb vehicle, not for the faint-hearted, with flirtatiousness vying with filth" The Adelaide Advertiser
Salome (Malthouse Theatre)
★★★★★ "This is event theatre not to be missed." Nick Pilgrim, Theatre People
★★★★★ "Five big fat erotic stars out of five" Youth Central
★★★★ "Demented, depraved and uproarious, under the leather glove of Stephen Nicolazzo, Little Ones Theatre has once again smeared its mark on the Melbourne stage." Rebecca Harkins-Cross, The Age
"Salome is glorious and hilarious and so damn smart that missing it isn't an option." Anne Marie Peard, Aussie Theatre
"Stephen Nicolazzo is the master of zero-gravity theatre, where the intellectual and moral heft is cloaked in a queer aesthetic" Chris Boyd, The Australian
"Camptastic. Tom of Finland-inspired costumes, great comic timing, genderfucking fun. Go see." Richard Watts, TRIPLE RRR
"Symbolism meets Tom of Finland & Alice Cooper. Wilde's OTT language sings. High camp on a high." Alison Croggon
"Oscar Wilde's Biblical Tragedy Does A Rocky Horror Via Alice Cooper. Riotously Hilarious With A Super-Camp Kick." Stephen A Russel, The Lowdown Under.
"The Village people perform Oscar Wilde" Herald Sun
"…amusing and sly; a camped-up drag-fest. One can't help but think Oscar would have been delighted." Arts Hub
"Little Ones Theatre's production of Oscar Wilde's Salome is lively, loud, lighthearted and wickedly profane. It's an 'in-your-face' cabaret performance with loads of well-dressed and undressed 'eye-candy' and more than just a hint of Jean Genet." Stage Whispers
"…funny, stylish and appealing" Australian Stage
"…stylistically extravagant and full of mirth. It shores up Little Ones Theatre's interest in exploring sexuality and gender on stage, and flexes their talent for dramatic debauchery." Milk Bar Mag
Psycho Beach Party (Sydney, Melbourne, and Brisbane Seasons)
★★★★★ "Sharp as a wet towel snap and very salty indeed, Stephen Nicolazzo's slick direction and an enthusiastic cast…[have created] a winning start to the year", Time Out Melbourne
★★★★★ "A perfect dollop of summertime silliness", Time Out Sydney.
★★★★1/2 " Psycho Beach Party is an absolute cack. Hi-lar-ious. What fun...Through strong ensemble theatre, the actors bring an almost erotic frisson to these cartoons of beachy teens, holding serious method and silly manner in true equipoise...Its the funniest show around!" Cameron Woodhead, The Age
★★★★ "Perceptive, bold and sharp", The Guardian
★★★★ "This is one show that pulls all the cheesy hallmarks of the genre into a blender, sets it to high, leaves the lid off, and presses go, letting the results splatter deliciously over the audience", Brisbane Times
★★★★ "…a laugh out loud psycho-palooza. If life is feeling a little serious, these joyous 80 minutes will bring it all back into focus", Arts Hub
★★★★"With rocking song and dance moments, coming out stories, a psychotic mother and beach bums galore, this tightly directed production is all killer, no filler." The Brag, Sydney.
"Psycho Beach Party is a romp that perfectly captures the free spiritedness of the Midsumma Festival." Sara Bannister, Stage Whispers
"Psycho Beach Party is a perfectly pitched Midsumma offering, and one not to be missed." Seanna van Helten, Milk Bar Mag
"The talented cast has a blast, and it would be a po-faced audience member who wasn't lured into the fun... " Kate Rose, Herald Sun
"For a pumped up, preening Bondi in the summertime, this is a perfect theatrical fit" Jason Blake, Sydney Morning Herald
"John Waters (and Divine) can eat their hearts out, this week. So, can early Pedro (Almodovar, that is). Why re-run those tired old movies you know by heart, at home, when you can watch this show LIVE? L. I. V. E. - LIVE. DO NOT MISS." Kevin Jackson Theatre Diary
"To a man and woman, the cast is an absolute blast, with no small thanks due to Nicolazzo." Crikey
Sex.Violence.Blood.Gore (MKA)
★★★★ "both a nightmare and a wet dream… poetic, hilarious, deeply affecting and decidedly queer… It's a terrific play, and compulsory viewing for anyone serious about theatre" Cameron Woodhead, The Age
★★★★ "a seductive production…Catherine Davies is spectacular…Whitney Boyd is hilarious…chalk this one up as another win for MKA." Time Out
★★★★ "Go see it!" Arts Hub
"The standout theatre production of 2012. It was scintillating, sexy, provocative theatre." Chris Boyd, The Australian
"Nicolazzo directs a compelling production…The performances are outstanding." Allison Croggon, Theatre Notes
"startling and accomplished", Jon Bailey, Real Time Arts
"This is why we go to the theatre" Anne Marie Peard, AussieTheatre
"rarely does theatre leave me truly hot. Giddy. Skipping down the street and punching the air. Like I was last night. SVBG is such an important Australian artistic event." Ming-Zhu Hii
‎"an engaging, absorbing, often highly amusing work beautifully presented by gifted, articulate, eloquent actors playing with restraint and irony. …Go MKA!" Stage Whispers
"a brilliant production… brilliant performances…" Australian Stage